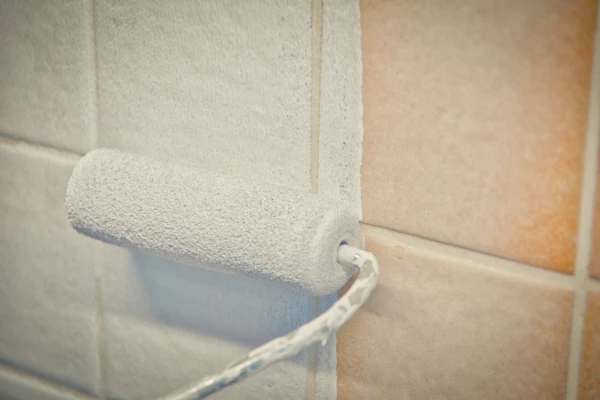 If you're sick of your boring bathroom tile but don't feel like tackling another huge tile project and the expense that goes with it, you might instead be asking: can bathroom tile be painted? The answer is yes! 
Painting your bathroom tile is a great way to spruce things up without taking on a major remodel. Not to mention, unique color choices or patterns can add a lot of value to your space.  
What to Consider Before Painting Your Bathroom Tile 
Painting bathroom tile is like any other painting project. Knowing what you can and can't paint, finding the best products for the job, properly prepping the space, and correctly executing the painting are all critical to the success of your project. Some things to keep in mind when considering painting your bathroom tile include: 
Try not to paint areas that are exposed to a lot of moisture, such as tub and shower tile, because it can cause the paint to peel. 
Floors can be painted, but high-traffic areas will probably require repainting more often due to wear and tear on the paint. 
Using the right type of primer and paint will ensure proper adhesion to the tile and prevent chipping and peeling. 
 
Tips for How to Paint Bathroom Tile Like A Pro 
Before you begin your paint project, remember that selecting the right type of paint is vital. Using any standard paint on tile might look great for a minute, but it won't last, and it can lead to a big mess and a labor-intensive cleanup. Following these tips and tricks from the pros can save you time and frustration.  
Clean the tile by removing grease, dirt, and mold from the surface and the grout. This will help create a smooth coat of paint and allow it to properly adhere. If you notice significant mold buildup, get in touch with our Neighborly partners at Rainbow International for safe mold removal services.  
Repair any damaged tiles, including cracks and chips, with a putty knife and caulk. Leaving them unfilled will only make them more visible once you add paint.   
Sand the existing glaze and any remaining rough patches of caulk. This is again important for creating a smooth, clean base for the primer to stick.  
Tape around the tile if needed to avoid getting primer, paint, or sealer on other surfaces or trim.  
Use a roller to apply a bonding primer specifically designed for glossy, hard surfaces. Latex wall primer won't do the trick; you need something that will hold on to the tile surface so the paint can hold on to the primer. Let the primer fully dry. 
Choose paint that is engineered for use on tile. Using any other kind of paint can lead to peeling, chipping, and blistering. Then, begin painting over the bathroom tile with a roller. If needed, use a smaller paint brush to cover any hard-to-reach corners or grout. Let the paint completely dry (24-48 hours). 
Optional: apply a finishing sealer. This will help better seal your fresh coat of paint. 
Aside from painting your bathroom tile a beautiful, solid color, you may also be considering unique prints or patterns to emphasize a wall or floor. Executing these prints, mapping out your bathroom design, and selecting the right paint can be a lot of work. If you need some creative assistance to help imagine and execute your bathroom tile redesign, Five Star Painting can help.  
Find Professional Painters in Your Area 
Like a lot of DIY home projects, painting your bathroom tile might seem like a great idea. Before you jump in and realize it's a lot more work than you bargained for, give your local pros at Paint to Perfection a call. With our expert bathroom painting services, you can be sure the job is done right. And once it's done, you can enjoy a project-free weekend and your beautiful newly painted bathroom tile. To get started contact us at (267) 469-1174 or request an estimate online today.