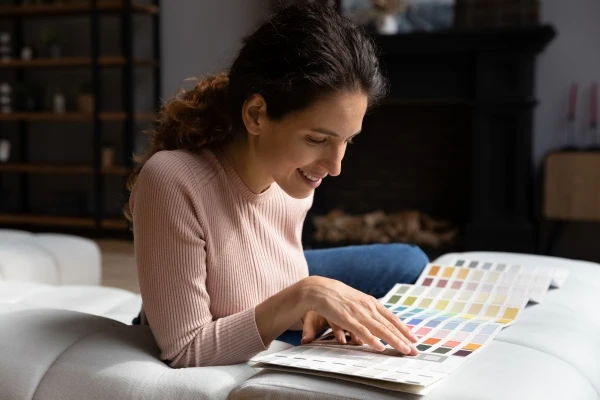 Whether your home is newly purchased, or you're just looking to freshen up its look, selecting a new color palette for your exterior may feel slightly overwhelming. After all, committing to a color that will define your property's curb appeal is a serious step. But there are plenty of great ways to incorporate multiple complementary colors to create a truly unique home exterior.  
To help minimize any stress, the pros at Five Star Painting have narrowed down some color options for you and provided some useful tips that will help make your decision a little easier.  
Tips to Pick Paint Colors for Your House Exterior 
When deciding on how to pick colors for your house, make sure you consider the long-term impacts of your final decision.  
Some of the top considerations: 
Study neighborhood color schemes. You may want to choose an exterior paint color that complements nearby homes.  
Embrace contrasting colors. Choosing paint schemes that provide variations in tone will highlight your home's architectural features. 

Coordinate with the existing materials. For homes with a brick or stone façade, choose paint colors that complement the natural textures and shades. 

Test paint colors on the house. If you paint boards with colors you're considering and move them around the exterior to see how they look at different times of day in various lighting conditions, you'll have more confidence in your choice. 

Consider using a pop of color on accents. Porch columns, shutters, and fascia can be opportunities to add a splash of color when choosing a neutral paint color for the rest of the home. 

Complement your home interior. Whether you've yet begun your interior design, you'll want to consider how your exterior paint stands as a representation of your home interior. It doesn't have to be exact, but small pops of color or texture that carry inside and outside of your home can create better harmony.  
House Exterior Paint Ideas 
Now comes the hard part: finalizing your exterior color palette. The best way to find inspiration is by starting with your own. Stop for a moment and create a picture of your perfect home exterior in your mind's eye. Do you find yourself drawn to a neutral color palette, warm or cool shades, or bold pops of color?  
Once you settle on a palette, it becomes easier to narrow down the hundreds of paint colors to fit your personal tastes. 
To keep the inspiration flowing, here are a few exterior paint combinations to consider based on different color schemes and aesthetics: 


Northern Shores: Do you appreciate neutrals but also love a little muted color? Subdued shades of slate blue, gray-green, and dusty red reminiscent of the northern shores and seaports may be your perfect palette. Consider paint colors like Comfort Gray | SW6205 for the body, Alabaster | SW7008 for trim, and Rookwood Red | SW2802 for accents. 
Related Topic: Evaluating Exterior House Painting Professionals 
Create Your Ideal Curb Appeal with Professional Painting Services 
Choosing the right paint colors for your home's exterior is an important decision, and so is choosing the right professional to do the job. When it's time to paint your home, contact your local professionals at Paint to Perfection. We have the knowledge, experience and expertise to get the job done right. Our trusted team provides exterior painting services that can help transform your home, enhance its curb appeal and give your home the high-quality paint job it deserves. To learn more give us a call at (267) 469-1174 or request an estimate online.