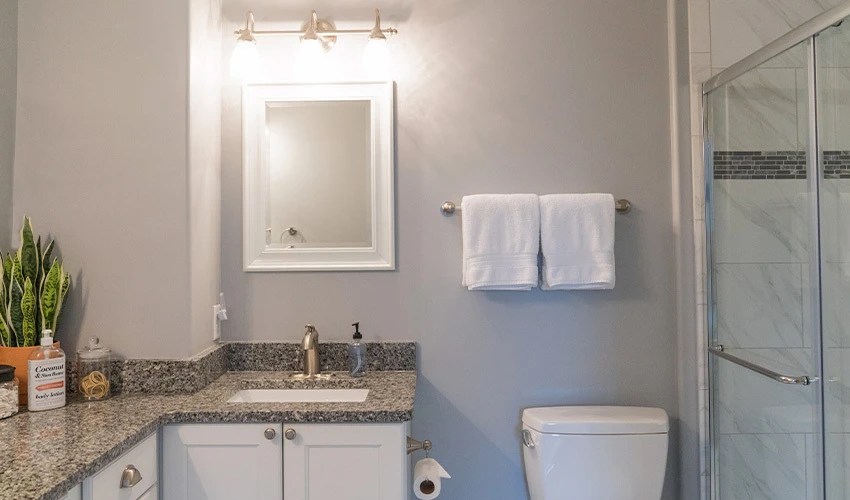 Bathrooms tend to be the smallest room in the house. By employing a few of the following tips and tricks, you can make it look bigger than it really is.
Use Paint to Open the Space
Picking the right paint color for your bathroom is an easy, inexpensive way to make it look bigger than it really is.
Below are a few paint colors from Sherwin-Williams that do just that!
Alabaster SW 7008

 

– This bright white paint is ideal for any-sized bathroom. It's warm enough to make a room feel welcoming but cool enough to compensate if you're low on light.
Ancient Marble SW 6162

 

– This beige is a great color for bathrooms that can be paired with colorful accents.
Veiled Violet SW 6268

 

– For some fun on the walls, this muted purple is great for a bathroom. It's light and airy, and would pair nicely with bright white shelves.
Window Pane SW 6210

 

– This color has a light blue undertone to it. It would be great in a sunny bathroom, adding a little hint of color to the walls without being overpowering.
Agreeable Gray SW 7029

 

– A popular soft light gray that runs very neutral and looks great with white trim.
Use a Large Mirror
A large mirror will give the illusion that a room is bigger than it is by reflecting more light in the room. Installing one without a frame will make the bathroom look even larger.
Increase Lighting
Keeping windows clean and clear is an easy and inexpensive way to make the bathroom look larger. By letting in more natural light, the room will look bigger and be brighter.
No windows? No problem. Use extended light fixtures over the medicine cabinet to make the bathroom look bigger.
Paint the Walls and Ceiling the Same Color
Whenever possible, try to "erase the lines" between areas in the bathroom. By painting the walls and ceiling the same color, it eliminates a break in space, giving the illusion of taller walls.
Tone on Tone
Using a tone-on-tone palette will keep the bathroom looking open and spacious. By sticking with colors in the same tone, the overall look of the room won't be broken up by obvious breaks on the walls, helping the room look bigger.
Less Is More
Go easy with the decorations. While a throw rug or a piece of artwork is a good way to add some color, limit how many you put in a small bathroom. Too many decorations can make a small space seem cluttered and even more cramped.
Need Professional Bathroom Painters?
Ready to start your bathroom makeover with a fresh coat but not sure which color to go with?
The experienced pros at Paint to Perfection are happy to help you find the perfect color and then give you a professional, long-lasting finish you'll love! Call us today at (267) 469-1174 or request a free estimate online.