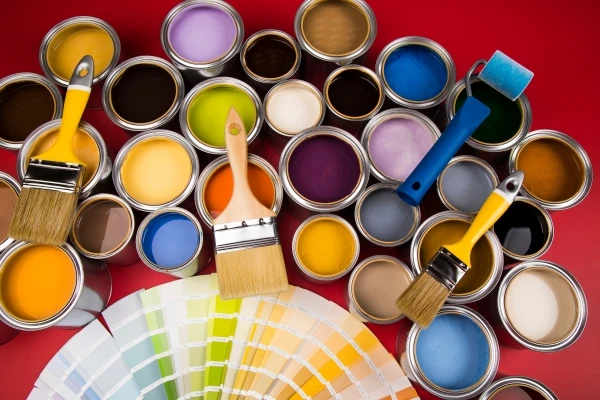 Entering the paint section at your local paint or home improvement store can be a daunting experience, to say the least. You just wanted to paint a small guest bedroom, and you're suddenly challenged with trying to choose between an acrylic and enamel paint. What's the difference and does it even matter? You ask yourself, "should I be worried if I choose the wrong one?" No worries, keep reading and we'll help you sort it all out. 
Everything You Need to Know About House Paints 
Paints, like most home repair materials, come in an array of options to help solve a variety of problems. Different types of painting projects require different types of paint. Understanding which type of paint to choose for a particular project can be a little confusing. So let's give you a "primer" on a few popular types of house paint, and which one is right for your project. 
Acrylic Paints 
This paint is broken up into three main parts: pigment, binder, and solvent. Simply put, pigment is the color, binder is what maintains the color after it dries, and solvent is how the pigment and binder are delivered to surface you paint. The solvent in acrylic is water, which allows you to apply the pigment and binder to your surface, and then the water evaporates, leaving only the paint behind.  
Things to Know About Acrylic: Works on most surfaces, as long as it is primed properly prior to painting.   
Enamel Paints 
Enamel is a solvent-based (oil-based instead of water-based) paint that dries in a harder, almost shell-like coating, as opposed to the more flexible acrylic. Oil-based paints have become less popular in recent years. Enamel is among the more common types of exterior house paints.  
Things to Know About Enamel: Some oil-based enamel paints can take several days to completely dry and have a very strong odor (for several days).  
Latex Paints 
Despite its name, latex paint contains no latex. Because latex is water based, like acrylic, there are a lot of similarities, but latex tends to dry faster and cost less than acrylic. Latex is usually affordable and can be bought in larger amounts, making it one of the more popular types of interior house paints. 
Things to Know About Latex: Latex paint doesn't work well on rough surfaces (like concrete). 
Primer 
Although primer technically isn't a paint, it's important to understand what it is and how it works. Primer covers up surface imperfections and can help reduce 'bleed through' from a previous paint color. Using primer over a darker color paint can help minimize the number of coats you have to apply of the new color (especially if the new color is lighter). It also provides a better surface for paint to adhere to. Primer can be an important step to ensure the surface you are painting if properly prepared, which will help reduce overall paint time. 
Things to Know About Primer: Primer must be matched with the paint—don't use an oil-based primer under a water-based paint.  
Related Topic: How Many Coats of Primer Do You Really Need? 
When Should You Use Each Paint 
Now that you know a bit more about the types of paint, let's review when and where you might use each one. 
Acrylic Paint Projects 
Acrylic paints are great to use in high-traffic areas because they are very durable and hold up well over time. Once they are completely dry acrylic paints are more flexible and durable than either latex or enamel. Acrylic paints also are more UV resistant than the other paints, which makes them a great choice for rooms that get a lot of natural light.  
Where to Use It?        

Interior rooms 

Furniture 
Enamel Paint Projects 
As mentioned above, enamel takes longer to dry than acrylic or latex, which makes it the right paint for surfaces that need to be cleaned frequently, even exterior locations. The main advantage of an enamel paint is its durability, which makes it a good choice for trim, cabinets, and walls in high traffic areas. One thing to note: oil-based paints are becoming less popular since they're hard to clean up. 
Where to Use It?        

Interior trim 

Kitchen cabinets 
Latex Paint Projects 
Latex paint is cheaper than acrylic and dries faster, which makes it a very good choice for large rooms and rooms that can't be out of commission for an extended period of time. Latex paint also produces fewer fumes, making it a better choice for rooms that don't have good ventilation, or rooms that kids and pets use frequently.   
Where to Use It?        

Walls 

Siding 

Ceilings 
Primer Usage 
Primer is best used prior to painting surfaces like, drywall, wood and some metal. If the surface you are painting has a lot of imperfections or a dark color you are painting over, using a primer will save you time overall. Although you can paint over some colors without using a primer, using one will provide a cleaner base on which to paint. It will also help your new paint color maintain its original hue. 
Where to Use It?        

Drywall

Surfaces with discoloration or imperfections 

Surfaces already painted with a dark color 

Raw wood 
Find the Right Paint for You 
Starting and finishing a paint project can be very satisfying, especially when you know which paint to use and where to use it. If you have more questions about paint, which one to use, or you need help with a painting project, reach out to your local painting pros at Five Star Painting.  
We can answer all your questions and help you plan and complete your next painting project. We use only high-quality paints from Sherwin Williams on all our jobs to ensure the interior and exterior of you home looks its absolute best. To learn more, give us a call at (267) 469-1174 or request a free estimate online.